Welsh room names
In an attempt to introduce the Welsh language to our visitors we have given the Welsh room names to the rooms. The following is a guide to the meaning/derivation/reason for the name and an assist with pronunciation!
GOLWG Y LLAN pronounced GO LUG UH LL ANN, meaning/derivation being able to see/view the church.
GOLWG Y FFAL pronounced GO LUG UH FAL, meaning/derivation being in sight of the "fal". The ffal being the sheep pen (the round stone wall structure behind the cottages) which was reputed to have been used by drovers making an overnight stop.)
GOLWG Y WAUN pronounced GO LUG UH WAEEN, meaning/derivation being in sight of the meadow. A "gwaun" being a boggy meadow.
GOLWG Y LLWYBR pronounced GO LUG UH LL OW BRR, meaning/derivation in sight of the path. This is with reference to the path which runs through the adjacent field, from the church down through three fields to the brook and beyond. Arriving in Gellinudd and then down the main road to Pontardawe.
Y CWTCH pronounced UH C(as in cat) OOT CH as in China, meaning/derivation a "catch" being a hidey hole or snug.
The word CWTCH has several meanings:-
Cwtch dan star is the cupboard under the stairs
A cwtch is a cuddle
If you tell a dog "to go to cwtch" it is being sent to bed.
NYTH Y GWEILCH pronounced NEATH UH GW EYE L CH (as in loch), meaning/derivation this is in reference to The Ospreys rugby union team who play at The Liberty Stadium therefore the name translates as Nest of the Ospreys.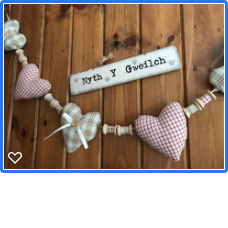 NYTH YR ELYRCH pronounced NEATH UR ELLE IRR CH (as in loch), meaning/derivation again in reference to the Swansea Football Team The Swans who also play at The Liberty Stadium. translation this nest contains swans.
CWTCH Y BARCUD pronounced CO T CH (as in chance) translates as the cosy hiding place of the kite. This a reference to the many Red Kites which have returned in recent years to the sky above the cottage.