Welsh place names
In general a Welsh place name will describe the location in doing this a small number of words recur frequently. Examples of this are
ABER -indicates where two waters meet, not always the sea. As many Aber place names are well inland for example Aberhonddu, Honddu being the name of the river in Brecon. Aberystwyth meaning the mouth of the River Ystwyth.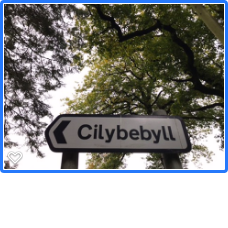 CASTELL – a castle, Castellnedd being a castle near the River Nedd (Neath)
CAER – a fortification. There are numerous examples throughout Wales. Caerfyrddin is the fort of Myrddin (Merlin) Carmarthen.
PONT – a bridge, Pontardawe describes the bridge over the Tawe River
LLAN – this is the Welsh word for the enclosure of ground around a church. Llandeilo indicates the "church"/ground of St Teilo. Llanelli indicates the "church"/ground of St Elli. However Llanmyddfri indicates the "church" among the waters (surrounded by 3 rivers) Llandovery.
PEN –Pen means "head of" so the seaside town of Penarth means "Head of the Bear." Ships captains beating up the Channel used to say that the headland and landmark on the coast before Cardiff was shaped like a bear.
PANT – Pant means valley or hollow, pont is bridge – you do not have to look far in Wales to find names beginning with both of those. Legends also give other names. Bryn is the Welsh word for hill so places like Bryn-yr-Ellyllon translates as "Hill of the Goblins" while Bryn yr Hen Bobl means Hill of the Ancient People.
Sometimes Welsh location names have translations for example Pen y Bont being Bridgend.
On occasion a location was referred to as by feature e.g. Abertawe ( the location were the River Tawe meets the sea. But the Vikings called this location Sven/Sweyn's Eye/Island, becoming known later as Swansea.
Other English versions of place names were the product of someone who didn't speak Welsh simply misunderstanding how to write the spoken word for example Caerdydd becoming Cardiff and Caerfyrddin becoming Carmarthen.
Finally there are the locations where there are two very similar versions. The old spelling of Brynaman becoming Brynamman and this spelling was generally the only spelling seen until bilingual signs reintroduced the Welsh version.