Location, location
Tan Yr Eglwys Cottages although being located in "centre of Neath Port Talbot" are in an ideal location for many of the best attractions & places of interest in South Wales. If I was to list all of the attractions & places of interest this blog would be 10 miles long. Some people think nothing of visiting the Brecon Beacons in the morning and then nipping down to St Davids for the afternoon. With this apparent disregard for distance and travelling time in mind it is difficult if not impossible to create a TOP 10 list of locations.
Indeed if you have just travelled to Tan Yr Eglwys from London or The Midlands for the weekend would you not be contented to absorb the tranquility of Cilybebyll and surroundings? Brew a pot of coffee or even open a bottle of good wine, sit down with a good book and enjoy the peace. Book finished go for a walk to build up an appetite for lunch or dinner.
If all else fails you could venture further afield and visit some of the many attractions close by. I will now provide 2 different Top 10 attractions the first for outdoor types and the second for browsing coffee shoppers. The Outdoor Top 10 has caused me great angst. No doubt in due course when you have all read this and assimilated the Top 10's you will mutter "What was he thinking about, how could he leave out X or Y or Z and include A or B or C"? I know have a go yourselves and let me know! This is all about location, location, location.
Outdoor Top 10
Carreg Cennen Castle
Llyn y Fan Fach
Neath waterfalls
Mwnt Beach
St Fagans National History Museum
Margam House & Country Park
Devils Bridge & the Rheidol Gorge
Dan-yr-Ogof Caves (great for kids)
Any Gower Beach
Kidwelly Castle/Manorbier Castle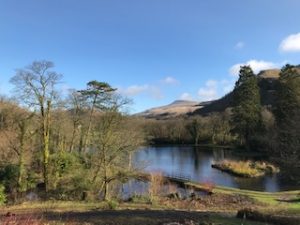 Browsing coffee shoppers Top 10
An afternoon in Llandeilo including afternoon tea in The Cawdor/An afternoon in Llandeilo including charcuterie at The GinHaus Deli
An afternoon at the Swansea Maritime Museum and coffee at the Grape and Olive (on a clear day)
An afternoon in Hay on Wye (books, fashion & food)
A trip to National Botanical Gardens followed by Wright's Emporium
A morning in Mumbles then Verdi's for lunch
Shopping in Cardiff followed by lunch at Jamie Oliver's or Carluccio's
Shopping in Narberth
Shopping in Brecon lunch at The Cathedral Cafe
Trip to Cowbridge