Footsteps-Monks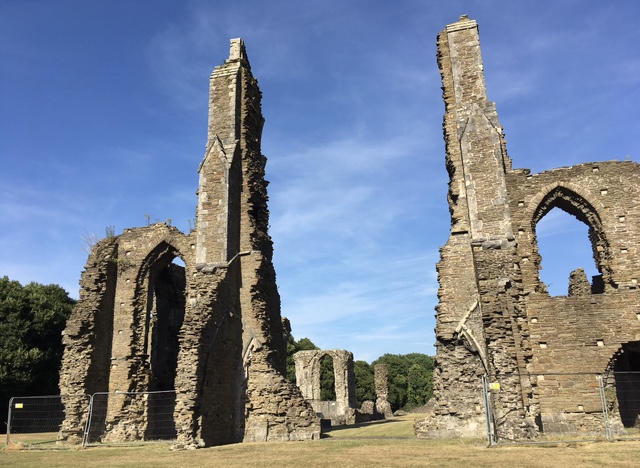 Very near to the Tesco on the roundabout in Neath, hidden from view are the grand ruins of a once majestic Cistercian abbey. This very green and pleasant location sits quietly next to the Tennant canal. Close to Tan yr Eglwys Cottages.
The site of the abbey has been recently improved by providing audio points around the grounds. There are benches near to the audio points amidst the impressive ruins. This is a lovely place to spend a sunny afternoon soaking in the atmosphere and imagining the importance of this site 600 years ago.
Within the ruins of the abbey are the remains of a large house constructed during the Tudor period. By the early 18th century, industrial developments began to surround the Abbey. Both the Abbey and the Tudor house fell into decay. During the 1920's volunteers removed the industrial debris that had accumulated. Projects to renovate the Abbey have continued through the decades. This abbey is now managed by CADW. There is no charge for entry.
Within Margam Country Park are the remains of another Cistercian Abbey, ie what remains of Margam Abbey. Both abbeys were constructed at the same time as Neath Abbey. The ruins of each Abbey now offer very different experiences. Margam is a far less imposing monument
Margam is not an imposing ruined monument but commands attention for the fine intact example of what was once the monastic nave of a grand Abbey. Although it is now a shortened version of the original nave. It is now the parish church for Margam. Regular Church services are conducted there. It is very impressive and worthy of a visit in order to sit and gaze at the very same view that the monks would have seen almost a thousand years ago. Within the church the West windows easily attract attention, indeed the work of William Morris. Surrounding the church are further ruins of the abbey.
To the left of the Abbey and the estate is an old Victorian school house. This exhibits one of the most important collections of Celtic stone crosses in Britain. All the crosses exhibited were discovered nearby. They are a testimony to a Welsh Christian culture from the 6th to 16th century.
To the rear of Margam Abbey are the ruins of a small chapel. This chapel is called Capel Mair. Capel Mair built by monks,to use for their peaceful contemplation or possibly for use by their tenants. The origins of these ruins are from 1300 – 1400 The evidence of early burials here suggests that this is the site of a far older church, which connects to the Celtic stones in the nearby museum