The Dragon Ride
The 2017 Dragon Ride starts and finishes in Margam Park (near Port Talbot) on Sunday 17th June. Last years Ride was held on possibly the hottest day of 2016. We had a group of riders from France staying in cottage no 1 in order for them to take part in the ride in 2016. Entries for 2017 Ride are now open. The ride has 4 different distances (dependent upon capability) of 100km, 153km, 230km and 305km. Dragon Ride is held over spectacular picturesque but gruelling Welsh countryside. The Ride now in it's 14th year is becoming increasingly popular as the trend of cycling increases and the "word of mouth" goes international.
All four routes tackle the climbs of Bwlch (5.8km at a six per cent average gradient, and maximum pitch of 22 per cent) and Rhigos (6.2km at a more consistent four per cent, and an average gradient of seven per cent).
Where
the 100km Macmillan 100 then returns to Margam Park with no further notable climbs, the 153km Medio Fondo continues north to the Brecon Beacons to tackle Devil's Elbow – 1.9km at eight per cent – and the 230km Gran Fondo also adds Black Mountain (7.1km at five per cent) to add up to 3,616m of climbing in all.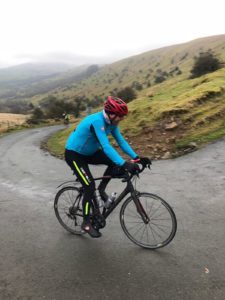 If you're a sucker for punishment, there's also the jaw-dropping 305km Dragon Devil ride, which includes all four previous ascents and a timed climb of the Devil's Staircase – a thigh-numbing 1.3km climb with an average gradient of 12 per cent and maximum pitches of more than double that.
Riders looking to slay the dragon can also take on the Dragon Tour – a two or three-day Tour featuring 90km rides on the Friday and Saturday (Saturday only for the two-day Tour), before the choice of the Dragon Ride sportives on the Sunday.