Best Beaches?
This is a question from almost every guest at the cottages, but not simply answered with the geographical mileage! We have to quickly assess a few factors before responding with suggestions. Firstly, we consider the duration of their stay and then quickly recall the make up of the group.
If this is a family with young children or toddlers, then simply sandcastles and open space may be the requirements. However, parents will also appreciate a short car journey, easy parking and good facilities. Somewhere with a floor surface suitable for a buggy can also be appealing. This may be for a buggy or for a family member with impaired mobility.
This choice will contrast to that of a young couple. They may be searching for a stunning backdrop to impress friends on social media. Or possibly just be searching for romantic isolation.
Different Seasons have different expectations. Weekends, Bank holidays and sunny days bring out the locals, so several aspects are to be considered and discussed. There is an ideal beach for everyone, whatever the time of year. Here are a few of our favourites, with thoughts on our selections
Be prepared to be amazed, especially if having travelled along the M4 above Port Talbot. Hiding well out of view of the industrial and built up area is an absolute gem! Aberavon Seafront has one of the longest stretches of sandy beach and overlooks the whole of Swansea Bay. There is a contemporary promenade, with easy parking and beach access.
Whatever the weather or Season, the promenade is used by walkers and cyclists whilst others are relaxing and people watching. There are always walkers on the beach. In good weather families enjoy the miles of flat sand or use the adjacent facilities. The beach is vast and shoals very gradually to the sea. This makes it safer than some other beaches for young children and is the firm choice of locals. The vast area of sand can convince children that they have complete freedom. However, as there are so few people around then a watchful eye can be ever present.
The sea does however provide great surfing conditions and whatever the season there are surfers to be watched. To the right of the beach as you face the sea are the sand dunes . There are eye catching views and sunsets over Swansea Bay to the Mumbles.
There is easy parking, some of it free plus a wide flat promenade. The simple facilities include ice cream, fish and chips, a playpark and toddler paddling pool, skatepark and adventure playground. This is an attraction to young families who do not want a long drive. Sometimes there can be a blustery wind but it is always stunning. If a quick seaside fix is required, Aberavon is an easy option. Combine the beach visit with time at Margam Country Park or a cinema trip near the seafront. It is fabulous for young families, anyone with impaired mobility or simply for guests wanting a short whistle stop visit.
The reputation of this award winning beach is very often familiar to our guests. If guests are National Trust Members then you can park for free. Rhossili Beach is deservedly award winning and undeniably truly jaw dropping in beauty. For that certain photo opportunity it is unique, but not for all. The journey is 30 miles, Swansea being 9 miles away and rhossili then a further 20 miles away. The popular route via Swansea seafront and Gower country roads easily takes an hour. However we choose to always travel via Penclawdd and through the north Gower roads which are quieter. We always stop at Penclawdd to watch the tidal estuary. It is convenient to call in for an ice cream or Welsh breakfast at Cariad Cafe. Then continue down to Weobley Castle ( and pick up some Gower Salt Marsh lamb from the farm shop). We will often return from Rhossili through Mumbles and call in for an ice cream or a meal.
Rhossili beach is simply breathtaking, but it is not the first choice for either younger children. Similarly if there is any impairment with walking or a dislike of rough ground. it is not suitable. It is a place to be adventurous. There is a popular walk out towards "the Worm". If the tide allows then go further afield by scrambling along the rocks to the tip. Or for a spectacular beach experience, climb down to the vast expanse of sand. Aim to see the remains of the wrecked Helvetia which became stranded there in the late 1800's. If you are still feeling energetic, climb up the hill behind Rhossili beach. This area is known as the Rhossili downs. Enjoy further breathtaking views out to sea and over the Loughor Estuary. On a clear day with good eyesight you can see the pastel painted houses on Tenby seafront!
This is an incredibly pretty beach with the name deriving from the tall peaked rocks. 300 million year old carboniferous limestone cliffs protrude from the sea and are a backdrop to a small sandy beach. There are stepping stones over the river and tidal estuary. Beware of swimming in the sea here! It is treacherous and has a rip current, many lives continue to be lost there!
There are two approaches to the Bay, neither is particularly suitable for a buggy or very small legs. Both routes lead to a most picturesque and much photographed beach!
National Trust Members can chose to park at Southgate village green for a reduced fee. Then amble along the cliff top moorland, sometimes amidst grazing sheep or ponies. The paths lead visitors to gaze down at the spectacular rock formation that leads to the name. Deviate around to the ruins of Pennard Castle and clamber down the dunes to the beach.
Alternatively, park near Parkmill and possibly visit the Gower Heritage Centre. Then cross the main road over to the woodland and duly take the paths through the deciduous woodland. Continue to walk alongside the meandering water flow, depending on the tide possibly cross the water on the stepping stones. It is likely that you will pass by some grazing cattle then enter the beach at sea level.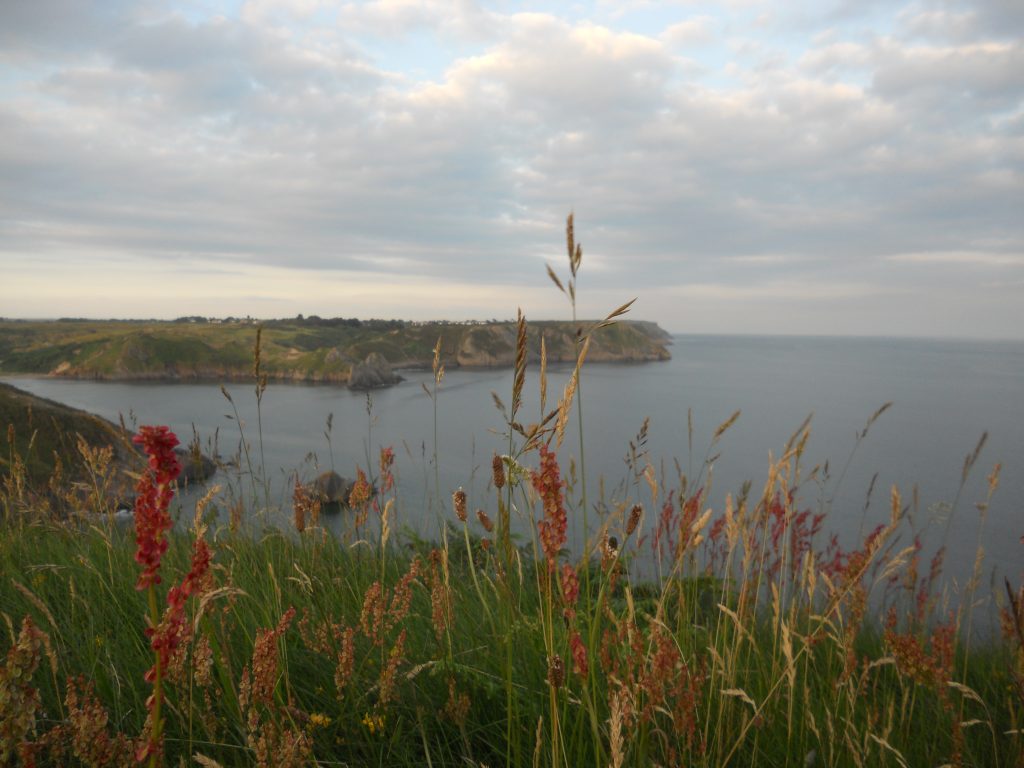 It is possible to combine a beach visit with a trip to Swansea Marina. Alternatively, stop at any point along the 7-8 miles that is Swansea Bay. Aim to reach the "village" of Mumbles at it's far end, with it's many cafes and small independent shops.
A walkway cum cycle path runs around the edge of the coast along the length of Swansea Bay. It is 6-7 miles long and gives uninterrupted sea views. The path is not wide, therefore not so relaxing with young children. It is however suitable and popular for bikes, buggies, cyclists and walkers.
For the adventurous, travel beyond Mumbles to the small pebbled Bracelet Bay beach. There is a play park, ice cream shop and a huge car park. It is possible to walk the coastal cliff top path around to Langland Bay and then onto Caswell Bay.
Both of these smaller beaches are extremely popular with visitors and locals. As council owned beaches, they have paid parking ( limited on a very sunny day), public facilities and coffee shops. The path around this stretch of coastline has lovely sea views which make it very popular throughout the year.
Oxwich, Horton and Port Eynon Beaches are a longer drive away. However these have ample paid for parking and generally offer longer beaches and are less crowded even on sunny days. There are facilities and a food outlet at each.
In order to see the sea and Gower from a different angle, a great viewpoint can be enjoyed from Llanelli. To access a flat coastal pathway ideal for walkers and cyclists, aim for the North Dock. There is paid parking. ice cream, a good cafe, fabulous play area, miles of flat even coastal paths and cycleway. This is a quickly changing sea scape where dangers lurk on this tidal estuary. With a huge expanse of sand and some pebble area, this tidal area can be treacherous. Generally this is not a beach for swimming but for long walks with fresh sea air. Possibly combine with a visit to Kidwelly Castle.
For a complete day trip, Pembrey Country Park is a great attraction. Or this can be combined with time spent at the impressive Kidwelly Castle. This is one very impressive beach with miles of silver sand. Without a great deal of effort, you can easily believe you have the beach to yourself. Pembrey Country Park charges entry by the car and in return gives a great deal. Stunning miles of coastline combine with dunes, forrest tracks, BBQ and grassy areas. There is a cafe and adventure playground to visit. Additionally for an extra fee there is a toboggan run and dry ski slope.
Just over an hour away in West Wales is a surprising addition to our favourite beaches. This is certainly not the nearest, but many guests are familiar with the name and ask about it's proximity. It is undeniably a gem of a place. It is 57 miles from the cottage and generally reached in a few minutes more than an hour. During our childhood, it was the place that a school or chapel trip would aim for each Summer. For decades it has been a favoured holiday destination from the Midlands. Happy holiday makers once arrived on special train services.
Tenby is an extremely picturesque town with a choice of 3 sandy beaches! The pastel painted Victorian town houses surround a picture postcard harbour. It is very much a "day out at the seaside" kind of place. Combine an ice cream, a stick of rock and a bag of chips eaten overlooking the beach at sunset. A familiar experience of many a childhood.