Discover Welsh foods.
When on holiday in Wales you should experience Welsh foods. When here in Wales you may wonder what indeed are local specialities? There are several choices, traditional and a wide new world of recently developed local products. We love to hear our guests have sampled new tastes and try to suggest where each food may be purchased.
Bara Brith (traditional Welsh foods).
This is a form of fruit loaf, it translates as Speckled Bread, though is always referred to as Bara Brith (pronounced as ba-ra br ee th ) as a reference to the dried fruit in it. Originally it was a yeast based, bread recipe, but we now see a tea bread variation where the dried fruit is steeped in cold tea overnight.
Our recommendation though is buy the genuine article from the traditional bakehouse in Saint Fagans Outdoor Museum near Cardiff. Eat it thinly sliced with a spread of butter. When the loaf is still warm (and very moreish) it is very difficult to cut those wafer thin slices of our childhood! The first true example of not to be missed Welsh foods.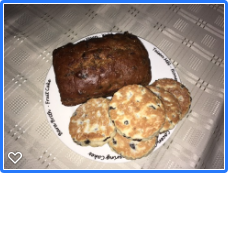 Most supermarkets stock Welsh cakes known in Welsh as Picau ar y Mân. The commercially mass produced cake is not as appealing as the home made variety. Sometimes Bara Brith will be the cake I choose to make to welcome guests to the cottage. Both Neath and Swansea indoor Markets will have some on sale and also the Farmers Markets or farm shops – another great Welsh food.
Welsh cakes are small round centimetre thick cakes that are traditionally cooked on a bakestone on the fire. Hence the name translates as the cakes baked on the bakestone, ie mân. You may of course buy some pre packed in the supermarkets. I think these are rather dry and use far more cinnamon and other spices than the homemade version. They are also cold and unappealing! As we grew up, we were accustomed to returning home from school to a never ending plate of warm Welsh cakes sprinkled with caster sugar and then smeared in butter – now they were delicious!
Availability
If visiting Swansea market, there are a few stalls cooking Welsh cakes. So you should sample them whilst warm for an authentic taste. The original recipe has sultanas. Often variations with jam sandwiched in the middle are available. However outlets such as Fabulous Welshcakes at Mermaid Quay in Cardiff Bay have made an art of variations from heart shaped to including ingredients such as nuts, chocolate, lemons or lime!
Bacon
The bacon of my childhood, when we were brought up on a farm in the 60's was home cured rashers of salty fat! A traditional Welsh food with just a streak or two of thin meat running through the fat! These days this bacon is rarely encountered, although sometimes available in the butchers at Carmarthen or Swansea markets. At some of the local farmers markets, notably the monthly Marina or Uplands market, I buy bacon produced from a Mangalica pig. This seems to be a similar taste to the childhood home reared bacon. Fine bacons are available from various farm shops, outdoor markets, Swansea & Neath indoor markets or from a good butcher, of which there are many.
Laver Bread
This black paste made from seaweed does not have any resemblance to bread at all which often causes confusion! It is however a delicacy with a "Marmite" like appeal. Laver bread is best when cooked in the frying pan that has previously cooked the bacon. It is an accompaniment to bacon and fried egg, mushroom etc.
Laver bread is available from both Neath and Swansea Markets. Or the cafes there would be somewhere to sample a full Welsh breakfast.
Cockles
Cockles are alongside laver bread, another traditional ingredient of our area. Historically cockles were collected from the tidal estuary around Penclawdd by the cockle women. Now it is a commercial venture and tightly controlled by regulations which protect the cockle beds, future supplies and the standards of the cockles sold to the public.
Our childhood memories are of buckets of cockles being brought as a gift if ever family members or friends ventured to the coast. These cockles were still in their shells and they would be boiled in the open fire in large "skillets" and devoured warm with fresh bread smothered in local salted butter. Now we buy chilled pre cooked cockles, seasoned with salt and vinegar. These are usually available from the same stalls that sell laver bread at Neath and Swansea Market. It is possible to also buy both inned cockles and laverbread in the local supermarkets. Some areas add cockles into the frying pan with the bacon fat and even mix into the laver bread.
Welsh Lamb
Traditionally Welsh lamb becomes available in August and Sept and continues through to December. There are many local butchers with a reputation for great meat. Buy from the butchers in Pontardawe, the meat will be local and have a good flavour.
Slightly earlier in the season lambs that have grazed on the salt marshes on the Gower are ready. This is often available locally.
If you travel to the Gower, call in the butchers in Penclawdd or indeed call at the farmshop at Weobley castle for their own lamb and lamb burgers for the BBQ.
Faggots (traditional Welsh foods).
Not just in Wales, but all regions of the UK have their variations on the bread, sage and pigs liver dish. This has memories of large trays being cooked and given to all relatives when pigs were slaughtered on the farm. These days they are available at the local butchers. Which are far tastier than the supermarket versions. Another traditional Welsh food.
Cheese
Wales produces almost a hundred different cheeses. If you searched in the average supermarket locally, you would see very few examples beyond Welsh Cheddar or Caerphilly. Caerphilly cheese has not been made in Wales for decades. But there are so many cheeses that are worthy of seeking out and a little internet research would guide you. Our go to places to buy these products would be a local monthly food market, the local Penyfodau farm shop in Fforestfach or the cheese stalls at Swansea Market.
Farmers markets
A visit to a farmers market will introduce you to any number of foods that are produced locally. From smaller scale manufacturers sweet confectionary such as fudge, marshmallows, waffles, chutneys, and preserves.
Other produce.
Also there are oils, balsamic vinegars, salad dressings vegetable crackers, seaweed snacks, charcuterie and so many other products. There are now numerous alcoholic drinks. Many local gins, ciders and artisan beers. Searching for all these products can be an adventure. The best source being the Winter Fair at the Royal Welsh Showground in late Nov/ early Dec. Usually a treasure trove for Christmas shopping. A visit to the Food Hall at the Royal Welsh Show during July is a great showcase of Welsh food and drink products.
Welsh Whisky
Penderyn Whisky Distillery. Is situated close to Brecon. Take a tour of the distillery. The educational aspect is interesting and the sampling enjoyable. If selected as the driver you can take the samples back to the cottage to drink in front of a log fire! These days gin and vodka is also available.
Beers, wines and spirits.
With such a large variety of ever changing products, then this will warrant a separate blog. Just for a taster, here locally to the cottages we have The Little Goat Brewery.