Get into the festive spirit with a Wales Cottage Break
It's never too early to get into the festive spirit at Tan Yr Eglwys!
Join us on the run-up to Christmas and experience the local festivities and shopping opportunities galore! We'll even have the cottages decorated – each with its own style.  Come on – what do you say?
The central location of our cottages allows guests to travel to most of South Wales within an hour, therefore there are masses of events to choose from. We hope the events listed below will inspire that festive feeling, but as we reach the end of November and early December many more local events will be advertised. As events are announced, Helen will be on hand to help guide you towards the Christmas magic. 
Wales is known for its exciting landscapes, heritage and culture with a wide array of unique events regularly taking place. During November and Dec, many Christmas celebrations abound – there are so many to choose from, it may be difficult to know which to select.  However, help is at hand, we have assembled some guidance to help our guests to navigate through – hopefully finding the best festive events for you, your family and friends.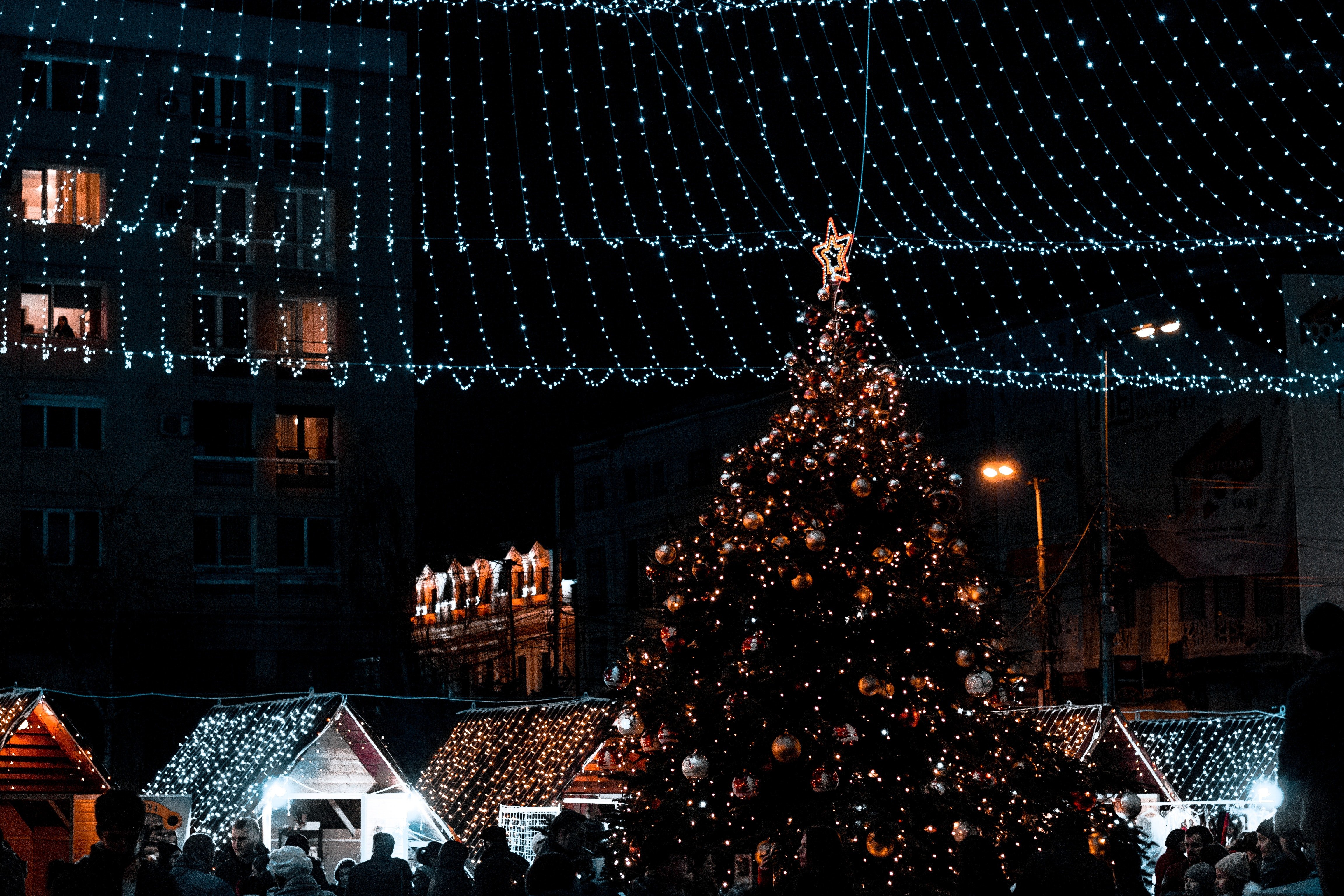 Travel an easy 30-minute car journey eastwards along the M4 to the multi-faceted Margam Country Park.  In all seasons it is a backdrop for all ages to explore and discover.  Every generation will find various interesting aspects, from the children discovering the nursery rhyme corner to the teenager's SUP boarding on the lake.  The architecture of the ancient Abbey, the Orangery and Margam Castle has huge appeal whilst the grounds and the mountain backdrop entice the explorers. Similarly, as Christmas approaches, there is something for all interests and ages.  Their website illustrates the many events on offer, some require booking well in advance due to the popularity of the park.
Margam Country Park Community Christmas Tree Festival – November 12th – 27th.
The first Christmas event at Margam park this year is the Community Christmas Tree Festival. This beautiful festival aims to bring together a range of different groups, from school children, business, visitors and community groups, for all to enjoy a magical festive display. They run a unique tree festival that all can compete in, just bring a decorated tree along with you and be in for the chance to win! This festival is thoroughly entertaining for families who have creative kids that look forward to decorating their Christmas trees, let their creative abilities run wild at this Christmas tree festival! Finish the day with a trip to Santa's grotto and watch him feed his donkeys to complete your festive experience.
Luminate Wales –  November 17th – January 2nd 
Undoubtedly in recent years, the Luminate Event has dominated the Christmas Season.  Luminate is an eye-catching trail of lights meandering through the gardens and outside of Margam Castle. 
The immersive music and the stunning lighting guides the visitor along a sensory journey of a mile in length with highlights and interactions appealing to both adults and children.  End the evening by toasting marshmallows or enjoy the delights of the Street Food Traders or Cafe.
Luminate is also being featured at the National Botanic Garden of Wales from Thursday, Dec 1st – the 2nd of January 2023.  The National Garden of Wales is a 35 – 40 minute car journey Westwards down the M4.
The Festival of Senses – 18th – 20th Nov 2022
45 minutes away via the most direct route is the pretty pastel-coloured town of Llandeilo.
At any time of year, it is a delightful shopping destination, with a cluster of smaller independent and speciality shops.  Such names as Toast, Peppercorn Cookware Specialists Davies & Co and so many more are always an attraction.  However, in mid-November, the Festival of Senses totally embraces the spirit of community, Christmas preparations and celebrations. For 3 days, Llandeilo presents a weekend of fun, entertainment and shopping.  Visitors flock to the town which in turn, pulls out all the stops to provide foodie delights, music, song & dance, a colourful firework display plus Santa himself will make an appearance. Of course, the shops all participate in later opening hours, all fully stocked with wonderful products. This is an opportunity not to be missed to start your Christmas shopping!  All your senses will certainly be mesmerised – See, Hear, Smell, Taste, Touch and Indulge! 
Hay on Wye – The Winter Festival at the Castle – Nov 24th – 27th.
Take a car journey of just over an hour through the stunning Brecon Beacons landscapes to reach a truly unique town on the Wales/England border. The "Town of Books" is famous for it's long-established Literary Festival during the Spring 1/2 term. Explore the newly renovated Hay Castle which will be a fine backdrop to the arts and literature festival that brings legendary writers from far and wide.  A visit would provide a totally unique atmosphere and allow exploration into a world of imagination. It's hosted in person but has the option for online attendees to join, so whether you plan to come in person or online, be sure to secure your place at this magical festival.
The Winter Fair at the Royal Welsh Showground – 28th and 29th Nov.
A drive of 80 minutes from the cottages, passing through the breathtaking Brecon Beacons National Park, lined with wild rugged mountains, undulating hills and lush pastures, this itself is a joy! However, the destination is a favourite opportunity to jump into the spirit of Christmas.
Whilst the origins are of a prime stock show, with high standards maintained, this is also an amazing shopping extravaganza. Amongst the 2 packed days of competitions and the elaborate display of livestock, be it cattle, horses, poultry, or sheep – there is a vast backdrop of demonstrations of country skills and farming-related skills.
But adjacent to the farming presence, the fabulous food hall and craft marquees support a huge number of independent producers and retailers – truly an incredible start to the Christmas season.
The Gwili Steam Trains –  Lights of the Valley and Santa Trains
Does the age of steam bring nostalgia or excitement?
During Oct and November, the Lights of the Valley train rides travel through the Gwili Valley, reliving an era of nostalgia with a colourful twist.   Visit https://gwili-railway.co.uk/…/lights-of-the-valley-train/
Throughout December, the Santa Special Trains are back!  Take an hour and a half journey back in time, with a complimentary mince pie and sherry to aid the Christmas spirit!  Santa will make an appearance and all children under 11 will receive a gift.  What better way to make some magical Christmas memories? Visit  https://gwili-railway.co.uk/train-rides/santa-special/
Everyone in the family can find their special Christmas occasion – here's one for the children of the family.  Gower Christmas Trees are not just about finding that perfect fresh Christmas tree!  The site has developed a wealth of other events that entertain visitors throughout the year.  Summer is now synonymous with their sunflower planting to the backdrop of Rhossili Bay, the lavender fields and their Halloween trails.  But as Christmas approaches, Santa's Grotto attracts children and families to explore a Winter Wonderland of grotto animations, reindeer feeding and of course seeing Santa!
Aberglasney Winter Fair Dec 2nd, 3rd and 4th.
Take a 45/50-minute journey to Aberglasney House and Gardens near Llandeilo.
This event has grown tremendously in popularity, our tip would be to visit early on Friday, as it gets incredibly busy (and difficult to park).  For a full 3 days, the House and Garden transform into a Christmas shopper's paradise. Exhibitors are hand-picked to complement each other and the surroundings.
Artists, makers, crafters, and designers will impress you with their products.  You are guaranteed to find unique gifts, art, handmade decorations, beautiful homeware as well as artisan food and drink – Christmas sorted!
In the centre of Llanelli sits Llanelly House, built there long before the surrounding townscape. Once the home of the Stepney family, this Georgian townhouse is an architectural feast.  The pleasure of a visit is generally heightened by the appearance of the Stepney family as visitors tour around the house.
At Christmas, this manor house is beautifully decorated as befitting such a grand home.  There are wreath-making workshops, breakfast with Santa sessions, a Christmas Market, plus concerts planned.  However, each Wednesday and Thursday during December, a Christmas lunch is served – a fitting addition to your Christmas trip.
Cardiff Christmas Huts – Opens November 10th until December 23rd. 
The Cardiff Christmas Huts, are a magical display of small businesses decorating the capital city's streets with wooden stalls, displaying some of the finest individually unique products that you just simply wouldn't find anywhere else. The Christmas huts light up the streets of Cardiff, with a phenomenal Christmas lights display above them. There's even an opportunity to grab a bite to eat in the Christmas markets, with German hotdogs and doughnuts being sold in a makeshift log cabin. It's an amazing experience for the whole family, or perfect for a romantic getaway for the weekend.
Make this a magical break at Tan yr Eglwys.  These are only some of the many events announced to date, if you have any other dates in mind or are searching for other events and attractions – please ask us and I'm sure we shall find somewhere to make special memories for you all.