A walk in the Park
A Walk in the Park.
Visitors to Tan yr Eglwys Cottages often ask about country parks or wide opening spaces, below is a selection of those closest to Tan yr Eglwys Cottages.
Access to the country Park is included in the parking fee. Margam Country Park is an 850 acre estate just off the M4 near Port Talbot. There are sea views and the park rises uphill through woodland and forested areas to the ridge. There are paths up to the high ridge and ruined chapel with wide views overlooking the M4, the coastline, steelworks and the wider Swansea Bay.
A day can easily be spent there, farm animals, nature tails, the deer park, a lake, miniature railway, play park, a wood vibrations trail and the nursery rhyme garden are all attractive to families. Adults will marvel at the beauty of the Orangery, Margam Abbey and Margam Castle, the architectural and ornate details. The location is popular for weddings and often used for filming.
In addition there is the Go Ape facility in the distant woodland featuring a Treetop Challenge, a Tarzan Swing and recently electric scooters have been added. For adults with impaired mobility enquire in advance about the hire of an electric tramper buggy. There is a Cafe facility and picnic benches.
This is the nearest Country Park, just 15 minutes away from the cottages a 6 mile journey. It is smaller than Margam but nevertheless a large area of parkland to explore. Its site high above Neath, probably favoured if some exercise is needed to let off surplus energy or time is limited to few hours. There are sweeping green areas, a large lake and beautiful woodland walks. There is a family friendly cafe, pitch & put golf course, climbing frames and an excellent play area. There are often Themed Events organised during the school holidays.
The Craig y Nos Country Park is reached in under 30 minutes by car. The journey is 14 miles up the picturesque Swansea valley and just into the Brecon Beacons National Park.
With mature trees, a lake, 2 converging rivers running through, ducks to feed, a cafe and a craft gift shop. The beautiful green space is surrounded by asimply stunning backdrop of the Brecon Beacons. This was originally the extensive garden of the adjoining baronial home that is Craig y Nos Castle (now a hotel).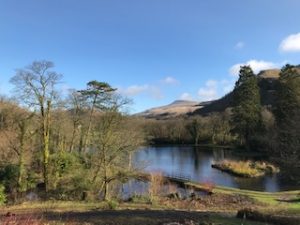 Craig y Nos Country Park
Just 45 minutes away, 26 miles around the south western coastline. There is a fabulous combination of a beach and country park. It has miles of silver sand where you can easily wander far away from the few other users of the beach. There are woodland walks, lovely picnic & designated BBQ areas. Also there is a dry ski slope, a toboggan run and a cafe.
There is an entry fee to the park, the ski slope & toboggan run are extra charges once inside the park.
Just 30 minutes away via the M4 route west at Cross Hands (SA14 7NF) is a 180 acre area known as Llyn Llech Owain, a great place for families who enjoy exploring.
The large lake is the heart of the park with an adventure playground, nature trails and a forest track for a longer walk or bike ride. This is a SSSI site, containing heathland, broadleaf and forested areas. Many paths are well surfaced and accessible to wheelchair users. There are picnic areas and a cafe.
Garwnant Country Park is 4 miles away to the NW of the A465 as it passes Merthyr Tydfil, the route that visitors to Tan yr Eglwys generally take when travelling from The Midlands.
This is a beautiful forest site with excellent visitor facilities. There are several marked trails through the woodland, a fantastic play area, a low ropes course, an animal puzzle trail and mountain bike trails for juniors. Of special note is a fully accessible trail for wheelchair users & buggies and the BBQ areas & cafe. This location just north of Merthyr Tydfil and on the southern edge of the Brecon Beacons National Park provides a peaceful scenic mountain backdrop.
It is useful to combine a visit to Garwnant with a visit to the Brecon Mountain Railway just 3 miles East of the A465 at Merthyr Tydfil.